Jacklistens.com – Take Jack-In-The-Box Survey, Get 2 Free Tacos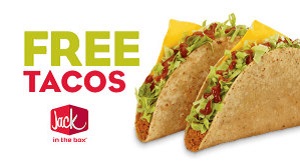 Welcome to Menupricesnearme.org! Prices are updated for 2023. Please use the 'Search' function for 'Secret Menus', and current deals and specials.
www.JackListens.com
Take the Jack in the Box Survey and get 2 free tacos as a thank you for your time.
The JackListens survey is a customer satisfaction survey, created by Jack in the Box, in order to source feedback about the customer experience being offered in the company's fast food restaurants. This information is then used by the company to make improvements to customer service training, or make other changes to their restaurants.
If you make a purchase at a Jack in the Box chain, you are eligible to take part in the survey. Upon completion, you will be awarded a coupon code, which will entitle you to two free tacos on your next visit. This makes it a win-win situation, with the company getting valuable feedback and participants being rewarded for their time.
JackListens Survey Prices.
For completing the Jack-In-The-Box corporation will reward you with:
You will receive a coupon code that you can redeem for two free tacos at any Jack In The Box location.
How to Take the JackListens.com Survey
To enter the Jack in the Box customer satisfaction survey, you must first make a purchase at a Jack in the Box restaurant and keep hold of your receipt. From there, go to www.JackListens.com on your chosen device and you will be automatically re-directed to Inmoment.com, where the survey is actually hosted.
First, select your chosen language, with the options being either English or Spanish. Then, enter the 14-digit survey code that is printed on your receipt. You will find this around halfway down the receipt, under the section labelled 'Take our survey and receive 2 free tacos". You must take the survey within three days of your initial visit.
Next, simply complete all of the survey questions provided. Most of these questions will be multiple choice questions about aspects of the customer experience. For instance, you might be asked to rate the cleanliness of the restaurant you visited, the speed of the service, the quality of the food you ordered, or the friendliness of the staff.
At the end of the survey, you will be given a validation code, which serves as the coupon code for your free tacos. Write this code on your receipt, in the space labelled "Write the provided validation code here". Next time you visit Jack in the Box, present this receipt and you will be rewarded with your two free tacos.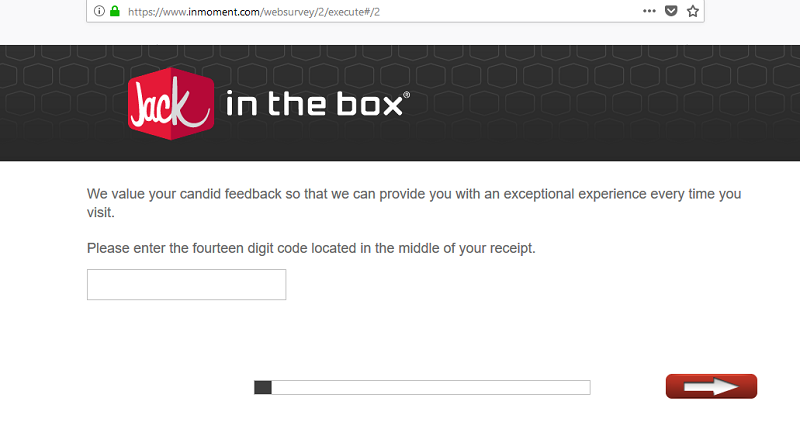 Jack in the Box Survey Terms and Conditions
To enter the survey, you need to have made a purchase at a Jack in the Box restaurant and you must also take the survey within three days of that initial visit. Customers are also required to keep their receipt from the initial visit, and the free tacos reward must be claimed within seven days of taking the survey.
Take care when entering your survey code and when writing down your validation code at the end of the survey. Current Jack in the Box employees and their families are not eligible to enter. You can only use one coupon code per visit and the reward of two free tacos is non-transferable and cannot be combined with other promotional offers.
Free BirthDay Tacos at Jack-In-The-Box.
Jack-In-The-Box also runs another long-standing promotion. If you sign up for their email mail list or with your mobile phone number, the company will give a coupon for 2 free tacos on your birthday, provided that you make a purchase.
You can sign up here: www.jackinthebox.com/coupons/birthday-tacos.
About Jack in the Box – Company History and Contacts.
Jack in the Box is a fast food chain, which specialises in burgers, tacos, sandwiches, chicken dishes and breakfast items. The company was founded by Robert Oscar Peterson in 1951 and is based in San Diego, California. Jack in the Box has more than 2,000 locations in the United States, with most of them situated on the West Coast.
For those who need to get in touch with Jack in the Box, you can do so using the following contact information:
Telephone Number: +1 858 522 4716
Mailing Address: Jack in the Box, Attn: Guest Relations, 9330 Balboa Ave., San Diego, CA 92123-1516
Online Contact Form: https://www.jackinthebox.com/contact
Twitter Account: https://twitter.com/jackbox
Other Survey Deals.
If you like this deal, you will also like these survey offers:
Dollar General's survey will give you a free chance to win 1000$ at Dgcustomerfirst com.
Taco Bell's survey will give a chance to win 500$ for filling out their survey at www TelltheBell com.
Chick-Fil-A gives you a free sandwich for taking the survey at MyCFAVisit com.
McDonalds offers a price of a free Big Mac for taking the www McdVoice com survey.
Nike will hand you a free 10$ coupon for filling out the www MyNikeVisit na com survey.
Sonic Burger gifts you a free drink for completing the www TalktoSonic com questionaire.
Checkers and Rally's hands you a free sandwich for taking the GuestObsessed survey.
Over at www TellDunkin com, you will net a coupon for a free donut.
Fill out the Whataburger survey, and they will give you a free burger.
At www Tellpopeyes com, Popeyes will hand you free coupons for taking their survey.
The PandaExpress Feedback survey also rewards you with free coupons.
Meanwhile, the Kroger Feedback website, lets you enter a sweepstakes for $5000, for free.
TalktoWendys com, the Wendy's Customer Satisfaction website, offers a free burger.
At www Survey Walmart com, Walmart customers will get a free chance to win 1000$ by taking the survey.
For a free KFC coupon, head over to MyKFCExperience com and complete the survey.
Pizza Hut gives you free coupons for taking the TellPizzaHut survey.
Over at www TellSubway com, you will be given a free coupon for 5 minutes of you time.
The menus have been updated for 2023! Please use 'Search' for 'Secret Menus', nutritional menus with calorie count, as well as current deals, coupons and specials.
Please add your experience with this restaurant in the comment section. Thank you!