Wendy's NEW 4 for $4 Menu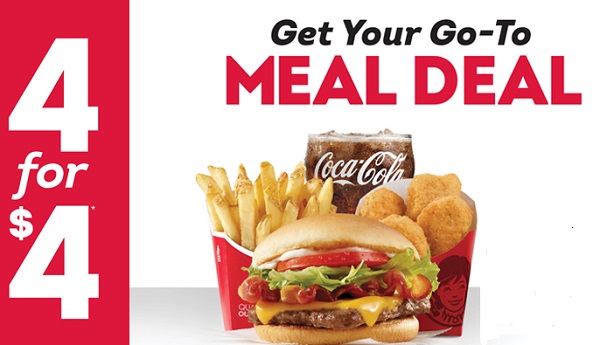 Welcome to Menupricesnearme.org! Prices are updated for 2023. Please use the 'Search' function for 'Secret Menus', and current deals and specials.
Wendy's NEW 4 for $4 Menu.
Wendy's has recently added a new 4 for $4 Menu promotion, but for a limited time only.
Wendy's is currently trying out a "4 for $4 Meal" as a nationwide test.
The 4 for $4 Menu includes:
Junior bacon cheeseburger.
Four chicken nuggets.
Small fries.
and a small drink.
The menu will stay, if it proves to be a success, but for now it is running for a limited time. No coupon is required.
This offer is not valid in Alaska and Hawaii.
Wendy's is hoping to lure 1$ offer customers from McDonalds and Taco Bell with this deal, and at the same time ensure that customers spend atleast 4$ per visit.
Time will tell if this is a good strategy. Customer response will determine whether the promotion stays, so get it while you can.
Read more on www.wendys.com and on the Wendy's Facebook Page.
See the full Wendy's menu wendys menu.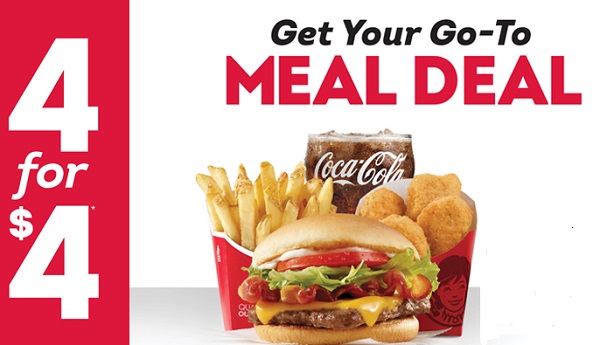 Enjoy!
The menus have been updated for 2023! Please use 'Search' for 'Secret Menus', nutritional menus with calorie count, as well as current deals, coupons and specials.
Please add your experience with this restaurant in the comment section. Thank you!