The Top 5 largest Fast Food restaurants in the World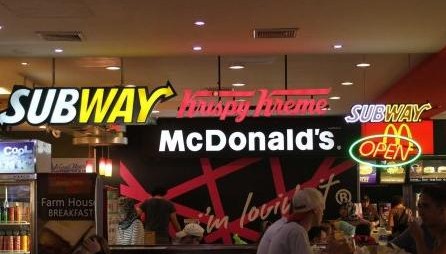 Welcome to Menupricesnearme.org! Prices are updated for 2023. Please use the 'Search' function for 'Secret Menus', and current deals and specials.
The 5 largest restaurant chains in the worlds: McDonalds looses its 1
st
Place.
Even though fast food chains face a lot of critique by health experts, the fast food industry is still growing. Especially in the US, fast food is as popular as ever.
Analysts forecast that the revenue of the entire fast food industry will climb from 191 billion US $ in 2013 to 210 billion US $ in 2015 the US alone.
However, while restaurant owners such as McDonalds are fighting the first saturation tendencies on the western market, the boom has only just begun in emerging countries such as India and China. All this is reason enough to have a closer look at the industry.
The following are the 5 largest restaurant chains in the world:
5. Pizza Hut (Restaurants: 15.605)
With regard to the number of restaurants owned by Pizza Hut, it is placing the fast food chain almost at eye-level with Burger King (restaurants: 14.372). Other than Burger King, Pizza Hut specialized in selling pizza. The fast food chain was originally founded in Wichita/Kansas in 1958 and now operates from its headquarters in Dallas.
Today, Pizza Hut owns more than 15.000 branches in more than 100 countries world-wide with more than 70 branches in Germany alone. Just like Kentucks Fried Chicken and Taco Bell (KFC), Pizza Hut is owned by the YUM! Brands enterprise which is listed on the New York Stock Exchange.
4. Kentucky Fried Chicken (Restaurants: 19.420)
Kentucky Fried Chicken (KFC) specialized in selling chicken dishes. The company was founded in 1930 by Harland D. Sanders and since then it prepares chicken dishes according to the original recipe by Sanders on sight. In 1952, the franchise model followed that earns Sanders 5 Cents of licensing fees for every sold chicken.
During the following decades, Kentucky Fried Chicken (KFC) expanded world-wide and today owns more than 19.000 fast food restaurants in 120 countries.
In Germany, Kentucky Fried Chicken (KFC) is now represented by more than 100 restaurants – a number that is expected to grow to 200 within the near future. Since 2002, KFC is owned by the YUM! Brands enterprise along with Pizza Hut. The enterprise owns more than 41.000 fast food restaurants world-wide.
3. Starbucks (Restaurants: 21.366)
The American Starbucks is one of the most popular restaurant chains in the world. In 1971, university friends Gerald Badwin, Gordon Bowker and Zev Siegl opened the first Starbucks coffee shop in Seattle. Today, with more than 21.000 shops in 64 countries, Starbucks is the largest coffee house world-wide placing it even before its rival Costa Coffee.
However, Starbucks not only offers different coffee varieties but also muffins and sandwiches. Additionally, the company brands include Teavana, Tazo, Seattle's Best Coffee, Evolution Fresh, La Boulange as well as Ethos.
2. McDonalds (Restaurants: 36.252)
For a long time, McDonalds has been at the forefront of the largest fast food chains. However, the company that was founded in 1940 and has its headquarters in Oak Brook/Ohio lost its status to Subway in 2011.
Still, In terms of revenue, McDonalds remains number one. Its success on the stock exchange is not too bad either – 300.000% profit for its investors since its listing on the exchange. Until recently, McDonalds owned more than 36.000 restaurants in more than 100 countries which accounts for more than 69 million daily customers.
A decreasing number of customers within the last couple of years, however, led to the development of a new concept that is supposed to be the turning point. McDonalds is planning to reduce its menu offer while new McDonalds CEO Steve Easterbrook is modernising the burger company. On top of that, several hundreds of McDonalds restaurants will be closing their doors.
1. Subway (Restaurants: 42.761)
Since 2011, Subway is leading the list of the largest restaurant chains world-wide. In contrast to McDonalds, Subway focuses not on burgers but on sandwiches, salads and wraps that are freshly prepared in front of the customer. The first Subway restaurant was founded in the US in 1965 by Fred De Luca and Peter Buck.
Today, the fast food chain with its headquarters in Milford/Connecticut manages more than 42.000 restaurants in over 100 countries with more than 400.000 employees and is preparing 265.000 sandwiches per hour according to company data.
Especially in Germany, Subway has been expanding within the last couple of years to now own 600 fast food restaurants mainly managed by franchise partners.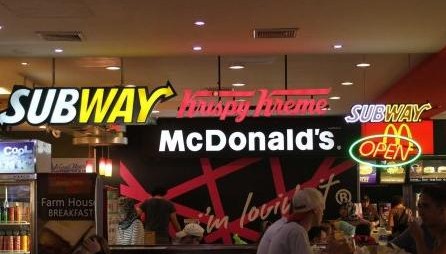 The menus have been updated for 2023! Please use 'Search' for 'Secret Menus', nutritional menus with calorie count, as well as current deals, coupons and specials.
Please add your experience with this restaurant in the comment section. Thank you!