Thanksgiving Deals and Specials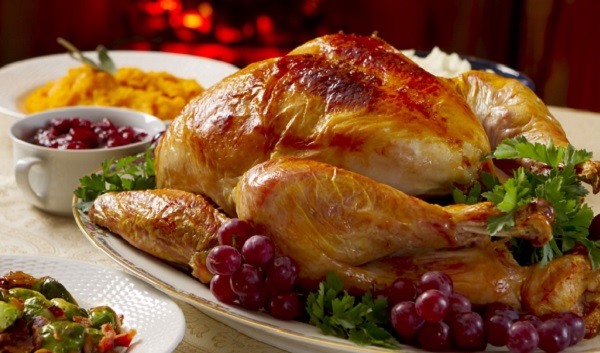 Welcome to Menupricesnearme.org! Prices are updated for 2023. Please use the 'Search' function for 'Secret Menus', and current deals and specials.
Thanksgiving Deals and Specials.
Every year, restaurants and chains across America scramble to keep customers coming in over the Thanksgiving holidays. Its hard to compete with mama's turkey extravaganza, but most restaurant chains do try, and some experience a growing demand for takeaway meals, and for normal dining-in as well, so make sure your make reservations. For example, Cracker Barrel says Thanksgiving is their busiest day of the year.
We have added a list of the best restaurant deals on Thanksgiving Day, November, if you really do not feel like cooking dinner yourself. We don't blame you.
If you are looking for the best value deals, then we we can recommend the Crack Barrel $12.99 dinner, the Golden Corral $12.99 Thanksgiving Buffet, Charlie Brown's $19.99 All-You-Can-Eat Thanksgiving special, Shoney's dinner for $11.99, and Denny's Thanksgiving Dressing meal  priced at just $10.99 for adults and $8.49 for Seniors.
Thanksgiving Specials.
Buca di Beppo.
Buca de Beppo will open at 11 AM.  A small Traditional Turkey Dinner will serve 3 people for $60. A Large dinner will serve 6 for $120. The dinner includes turkey, sides, cranberry sauce and pumpkin pie.
Black Angus Steakhouse.
Buy a Thanksgiving meal for just $18.99 adults, $9.99 for kids. The includes roast turkey, savory sides, cranberry sauce and pumpkin pie.
Cracker Barrel.
Cracker Barrel offers a Thanksgiving meal from 11 a.m. to 10 p.m. The Homestyle Turkey n' Dressing Dinner includes gravy, cranberry relish,  sugar cured ham, sweet potato casserole with pecans, choice of a country side, a refillable beverage and a slice of pumpkin pie. The meal costs just $12.99 per adult and $7.99 per child.
Charlie Brown's Fresh Grill.
The chain offers an All-You-Can-Eat Turkey Thanksgiving Dinner for just $19.99.
Chevys Fresh Mex.
Chevys offers a Thanksgiving meal from 11 am to 7 pm. IT is $17.99 per person; $7.99 per child, and the dinner will be Tex-Mex inspired.
Denny's.
Denny's offer a Turkey & Dressing Dinner, served with savory stuffing, turkey gravy and cranberry sauce plus two sides and bread for just $10.99.
El Torito.
El Torito serves a Thanksgiving Day Buffet from 11 am to 7 pm, and it includes turkey, roast beef and ham.
Fleming's Steakhouse.
Fleming's Prime Steakhouse serves a grand four course Thanksgiving dinner for $39.95 per adult from 11 Am. The dinner include Mixed Herb Roasted Turkey Breast with turkey gravy, Brioche Stuffing, Sweet Potatoes, Green Beans with bacon, almonds and onion. The children's Thanksgiving dinner costs $19.95.
Golden Corral.
Golden Corral is offers a Thanksgiving Day Buffet that includes turkey, carved ham, fried chicken, rotisserie chicken, pot roast, meatloaf, sirloin steak, fried shrimp and more. In most locations it will set you back $12.99.
Macaroni Grill serves a traditional Thanksgiving dinner for $18.99.
Marie Callender's.
Marie Callender's restaurants serves a traditional Thanksgiving meal for just $19.99 for adults, $8.99 for kids, on Thanksgiving Day.
The Palm Restaurant.
The Palm offers a 3-course Thanksgiving menu which includes soup or salad, turkey and side, and a dessert.The Thanksgiving meal costs  $59 for adults and for children $24.
Ruth's Chris Steak House restaurants will open at 12 PM. The Tthanksgiving three-course turkey dinner includes soup or salad, turkey breast with gravy, stuffing and cranberry, one side and pumpkin cheesecake. The adult menu is from $39.95 to $41.95 and kids can eat for $12.95.
Shoney's.
Shoney's has an amazing value Thanksgiving buffet with turkey, ham, fried chicken for just $11.99 and $5.99 for kids 5 -10. Kids 4 and under will  get a free buffet with an adult meal purchase. Customers will also receivee a free slice of pumpkin pie.
Sizzler.
Sizzler opens a 11 am and they will serve fresh roasted turkey with stuffing, mashed potatoes and gravy, baked sweet potato with maple butter, green beans, cranberry sacue and a slice of pumpkin pie. Call for prices.
Ted's Montana Grill.
This chain offers a Thanksgiving Roast Turkey Feast for $29.
Waffle House restaurants are also a great option as they will all stay open for Thanksgiving Day. They will not offer a traditional Thanksgiving Day dinner, only their normal menu.
Happy Thanksgiving from us at AllFoodMenuPrices.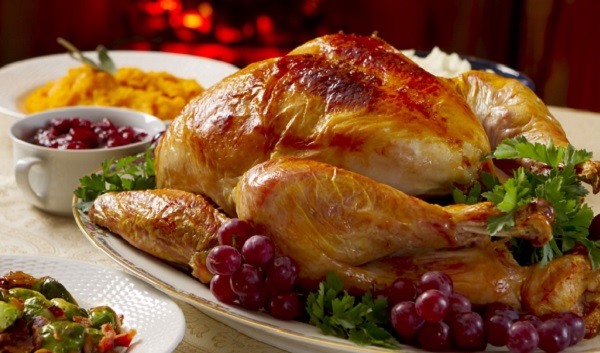 The menus have been updated for 2023! Please use 'Search' for 'Secret Menus', nutritional menus with calorie count, as well as current deals, coupons and specials.
Please add your experience with this restaurant in the comment section. Thank you!