Starbucks Treat Receipt Special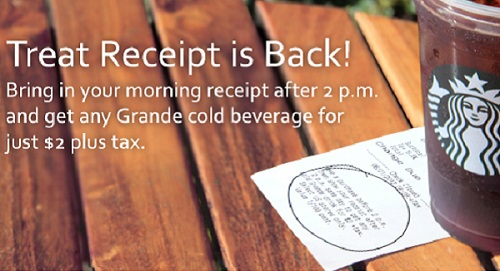 Welcome to Menupricesnearme.org! Prices are updated for 2023. Please use the 'Search' function for 'Secret Menus', and current deals and specials.
The Starbucks Treat Receipt Special has returned!
Starbucks' famous Treat Receipt special is back, but just for a limited time.
The promotion will this time run through August 30th.
How the Treat Receipt promotion works:
When you make any Starbucks purchase before 2 PM, you can get any Cold Grande Beverage for only $2.50 after 2 PM on the same day at all participating Starbucks locations in the U.S. and Canada.
Cold Grande drinks include iced coffee, iced tea, Starbucks Refreshers, and Frappuccinos.Starbucks are pushing the new Iced Coconut Milk Mocha Macchiato, so whay not give that a try.
To get the discount, simply save your receipt form your before 2 PM purchase and show it to the barista, when you return. You can also show your purchase history on your Starbucks App.

At participating stores only. The Treat Receipt has no cash redemption value and cannot be combined with other discounts. The Treat Receipt is not valid if it has been reproduced or transferred.
Starbucks for Life Giveaway.
Starbucks has another great summer promotion running, that only a few know about.
Through September 12th, go to their new website StarbucksForLife.com, and log into your Starbucks Rewards account (sign up for a Starbucks Rewards account first, if you are not already a member).
Go to the bottom of the page, and click on the "To enter without making a purchase, click here" link.
Fill out the required information and you will receive a code in your email account, that you need to enter at the Starbucks For Life website.
You will then be entered to win prices like: Free Starbucks for Life, Free Starbucks for a Year, Free Starbucks for a Month and Starbucks for a Week.
You could also instantly win 5-125 Bonus Stars.
By making 1 or 2 purchase transactions with a registered Starbuck Card or App in a day, you will also earn up to 4 Game plays per day to win more prices.
Hey, its free to try, so why not.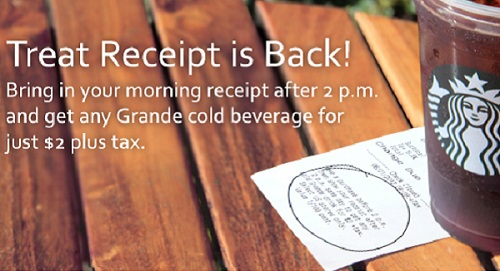 The menus have been updated for 2023! Please use 'Search' for 'Secret Menus', nutritional menus with calorie count, as well as current deals, coupons and specials.
Please add your experience with this restaurant in the comment section. Thank you!