Starbucks launches new $8 Power Lunch Meal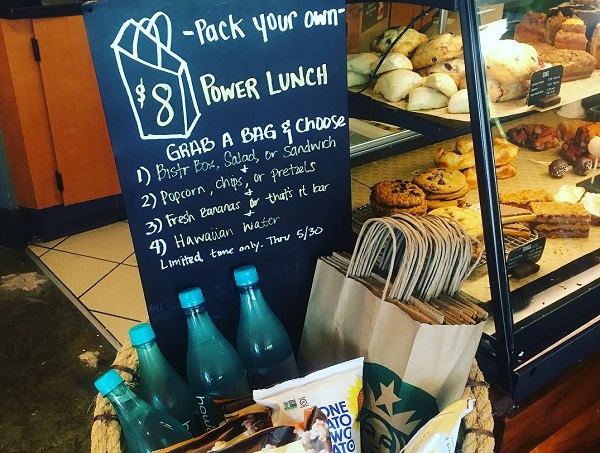 Welcome to Menupricesnearme.org! Prices are updated for 2023. Please use the 'Search' function for 'Secret Menus', and current deals and specials.
Starbucks New $8 Power Lunch Meal.
The famous coffee chain, Starbucks, is all set to meet your lunch hunger needs for just $8. The new combo includes three food items along with a bottle of Ethos water.
There are several options available to choose from:
You can choose any one item from the sandwich, salad and bistro menu, add one snack from the popcorn, pretzels and chips section, and then top it up with a banana or fruit bar.
The Power Lunch Combo is quite a great saver since the items included in it, if bought separately, would cost you 3 to 4 Dollars more. With this new meal box, Starbucks enters the low-budget lunch segment in competition with fast food brands like Wendy's and McDonald's.
Wendy's first introduced a lunch offer in the month of October, which gave customers four items, a cheeseburger, chicken nuggets, fries and a drink at just $4. McDonald's then introduced a Mc Pick 2 Menu, which was not only available for lunch, but also during breakfast hours. Starbucks is said to have been inspired by these two fast food giants companies, though their package is a bit costlier than the others. However, the Starbucks Power Lunch offers much healthier food choices and a complete meal, unlike the other two. The "That's It" fruit-bar from Starbucks, for example, contains healthy fruits like apple, strawberry, blueberry, cinnamon, mango, apricot, pear etc. They do not contain any preservatives, added sugar or artificial color.
However, one glaring omission from the Power lunch box is the one item that Starbucks is well-known for – coffee. It would have been great, if the bundle included a cup of coffee instead of the bottle of Ethos water. This is of course a clever strategy adopted by the company, as people are likely to order coffee as an extra, ensuring more business.
The offer is valid for a limited time period (16th-30th of May).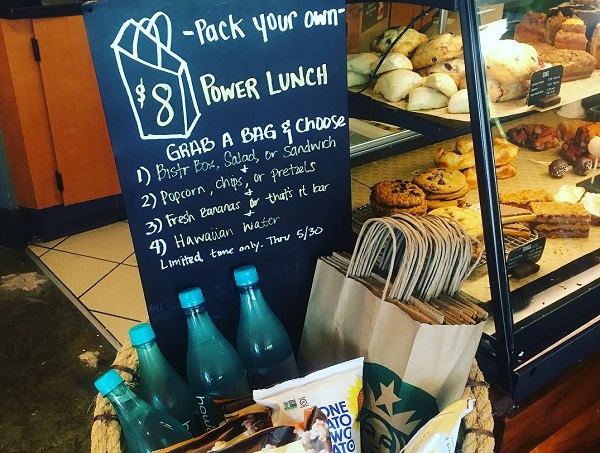 The menus have been updated for 2023! Please use 'Search' for 'Secret Menus', nutritional menus with calorie count, as well as current deals, coupons and specials.
Please add your experience with this restaurant in the comment section. Thank you!