Red Robin Menu with Prices
Welcome to Menupricesnearme.org! Prices are updated for 2023. Please use the 'Search' function for 'Secret Menus', and current deals and specials.
Red Robin Menu with Prices.
Looking for the Red Robin Menu with Prices? Look no further, because you've found it.
We have added the full Red Robin Menu with prices below, including the shakes & burgers menu, kids menu, lunch and dinner menu.
Please note, that prices vary slightly from restaurant to restaurant, so please use this menu as a guide only. Prices are usually a bit higher in California, New York and in central metropolitan locations.
UPDATE: Red Robin plans to discontinue 55 items from their menu in 2020-2021, for a simpler menu.
More and more Red Robin locations now also offer Donato's Pizzas. The company plans to roll put pizzas to more locations in the near future.
Red Robin Menu.
Menu Items
Size
Price

Red Robin Appetizer's

Baja Dip N' Chips
$3.00
Classic Mini Wedge Salad
$3.00
Pretzel Bites
$5.00
The O-Ring Shorty
$5.00
Fried Pickel Nickels
$5.00
Guac Salsa & Chips
$5.00
Red's Bold Boneless Wings
$5.00
Red's Tavern Fries
$7.00
Chili Chili Con Queso
$7.00
Creamy Artichoke & Spinach Dip
$7.00
Jump Starter Double
$7.00
Bar Wings 'N' Yukon Chips
$9.00
Towering Onion Rings
$9.00
Great Northern Poutine Fries
$9.00
NachO.M.G.
$9.00

Gourmet Burgers

Red Robin Gourmet Cheeseburger
$9.39
Keep It Simple
$8.99
Grilled Turkey
$9.49
The Garden Burger
$8.99
Sauteed Shroom
$10.49
Bacon Cheeseburger
$10.39
Whiskey River BBQ
$10.69
Bleu Ribbon
$10.89
A.1. Peppercorn
$10.99
Chili Chili Cheeseburger
$10.99
Royal Red Robin
$10.99
Prime Chophouse
$10.79
Guacamole Bacon
$10.89
Banzai
$9.99
All-American Patty Melt
$9.99
The Wedgie Burger
$10.49
Burnin' Love
$10.79

Red's Tavern Burgers

Red's Tavern Double
$6.99
The Big Tavern
$8.99
Nacho Crunch Tavern Double
$7.99
The Big Crunch
$9.99
Turbo-Q Tavern Double
$7.99
The Big Turbo
$9.99
Pig Out Tavern Double
$8.49
The Big Pig Out
$10.49
Fiery Ghost Tavern Double
$8.49
The Big Ghost
$10.49

Red Robin's Finest

Smoke and Pepper
$13.49
Black & Bleu
$14.29
The D.G.B.
$12.99
The Southern Charm Burger
$13.99
The Marco Pollo
$12.99

Red Robin Fresh Salads

Whiskey Rio BBQ
$10.39
Simply Grilled Chicken Salad
$8.99
Avo-Cobb-O
$10.89
Crispy Chicken Tender
$9.99
Soup & Salad Combo
$9.49
Insane Romaine
$9.49
Southwest Sombrero
$10.49
Banzai Salad
$10.49
House Salad
$4.79
Side Grilled Caesar
$5.79
Side Traditional Caesar
$4.79

Red Robin Wraps, Sandwiches, & Soups

Whiskey River BBQ Chicken River Wrap
$10.19
Caesar's Chicken Wrap
$10.19
BLTA Croissant
$10.69
Souper Sandwich Combo
$11.79
French Onion Soup
Cup
$3.29
French Onion Soup
Bowl
$4.99
Calmdigger's Clam Chowder
Cup
$3.29
Clamdigger's Clam Chowder
Bowl
$4.99
Chicken Tortilla Soup
Cup
$3.29
Chicken Tortilla Soup
Bowl
$4.99
Red's Chili Chili
Cup
$3.59
Red's Chili Chili
Bowl
$5.49

Fun on the Bun

Crispy Chicken
$9.99
Whiskey River BBQ Chicken
$10.69
Teriyaki Chicken
$9.99
California Chicken
$10.89
Simply Grilled Chicken
$8.99
Bruschetta Chicken
$10.89
Crispy Arctic Cod
$10.69

Red Robin Entrees

Red's Nantucket Seafood Scatter
$14.99
Clucks & Fries
$10.79
Clucks & Shrimp
$12.79
Ensenada Chicken Platter
$12.79
Buzz Clucks & Mac & Cheese
$12.29
Prime Rib Dip
$14.69
Arctic Cod Fish & Chips
$13.49

Red Robin Desserts

Freckled Lemonade
$6.19
Towering D'Oh Rings
8
$8.49
Towering D'Oh Rings
4
$5.99
Gooey Chocolate Brownie Cake
$5.29
Mountain High Mudd Pie
$6.59
Double Berry Cheesecake
$5.99
Chocolate Fruffles
$5.99

Red Robin Beverages

Freckled Lemonade
$4.49
Very Berry Raspberry Lemonade
$4.49
Poppin' Purple Lemonade
$4.49
Orange Cream Soda
$3.79
Raspberry Cream Soda
$3.79
Root Beer Float
$4.49
Chillin' Concoctions
(Chocolate, Vanilla, Strawberry, Banana, Raspberry, Peach, Cookie Magic, Mint Brownie, Salted Caramel, & Nana-Nana-Moo-Moo)
Classic
$3.99
Chillin' Concoctions
(Chocolate, Vanilla, Strawberry, Banana, Raspberry, Peach, Cookie Magic, Mint Brownie, Salted Caramel, & Nana-Nana-Moo-Moo)
W/Refill Tin
$4.99
Finest Shakes (S'Mores, Cup Cake, Groovy, & Hawaiian)
Classic
$4.69
Finest Shakes (S'Mores, Cup Cake, Groovy, & Hawaiian)
W/Refill Tin
$5.69
Red Robin Milkshakes & Smoothies Menu.
CLASSIC MILKSHAKES & MALTS.
Your choice of chocolate, vanilla, strawberry, banana, raspberry or peach.  Price: 3.79$. Monster Refill Tin: 4.79$.
MINT BROWNIE SHAKE.
A blend of mint syrup and chewy brownie pieces topped with whipped cream.  Price: 3.79$. Monster Refill Tin: 4.79$.
ROOKIE MAGIC.
Hershey's Chocolate syrup blended with Oreo cookies. Price: 3.79$. Monster Refill Tin: 4.79$.
GROOVY SMOOTHIE.
Strawberries, peaches, bananas and grenadine blended with apple juice and vanilla cream. Price:  3.99$
HAWAIIAN HEART THROB SMOOTHIE.
A blend of strawberries, bananas, grenadine, coconut cream and
pineapple juice. Price: 4.29$.
NEW Additions:
DIVALICIOUS RED WINE SHAKE.
Made with Rasberry puree, Vanilla icecream and red wine.
BEAM-N-BACON BOOZY SHAKE.
Made with Jim Beam Bourbon, caramel, and a strip of bacon to stir with.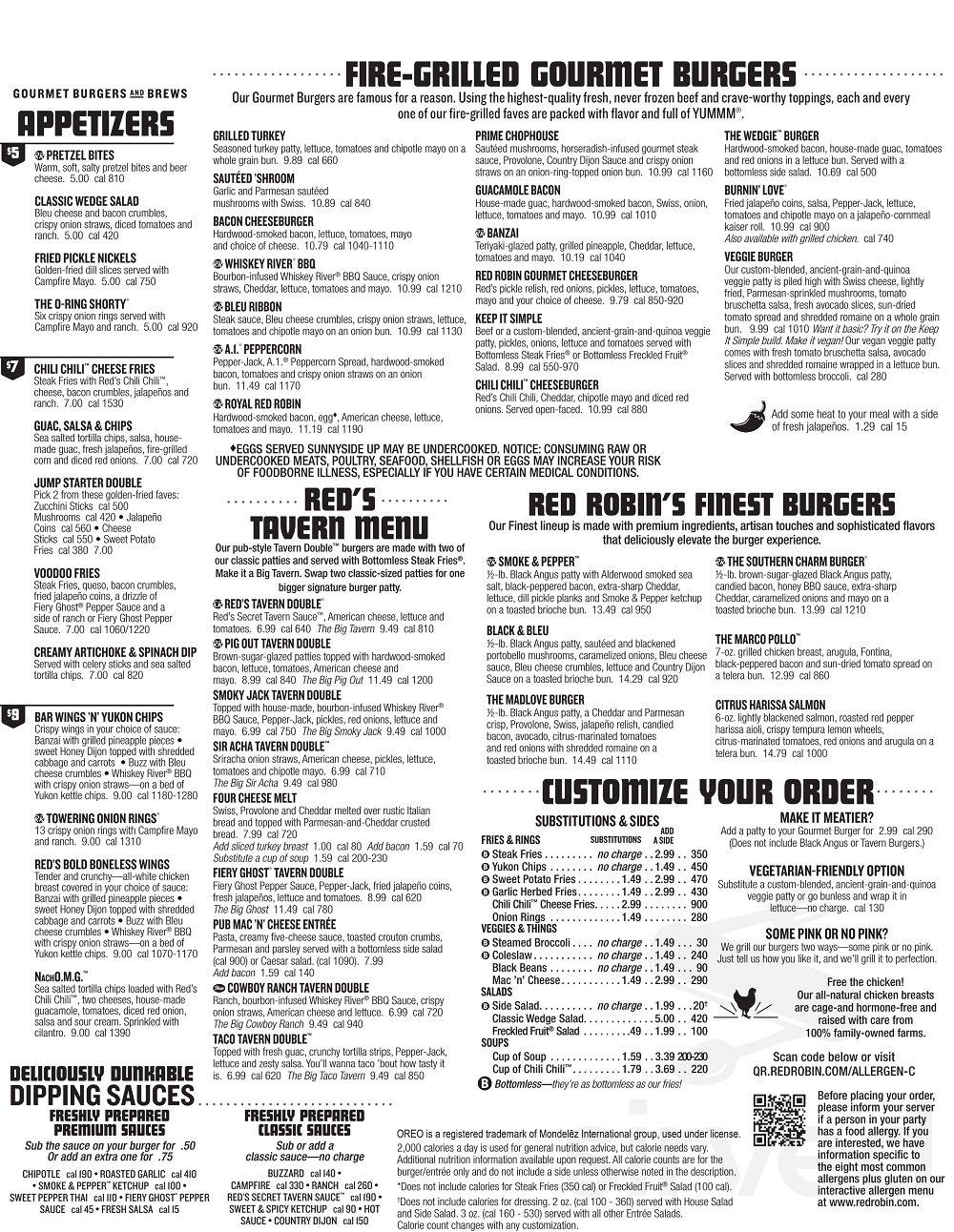 What is Red Robin Gourmet Burgers?
Red Robin Gourmet Burgers is a chain of burger restaurants founded in 1969 in Seattle, Washington. The company's headquarter is in Greenwood Village, Colorado.
The original Red Robin was first called Sam's Tavern. The owner sang in a barbershop quartet and was often heard singing the song "When the Red, Red Robin (Comes Bob, Bob, Bobbin' Along)".  Eventually changed the name to Sam's Red Robin. The company now has more than 450 restaurants with and sales of US$1,000,000,000.
Red Robin has now added a chain of "simplified" fast food burger restaurants called Red Robin's Burger Work. The company's main competitors include Ruby Tuesday, the Sonic Menu and Applebees Menu.
The Red Robin Menu.
The Red Robin chain specializes in gourmet burgers with 28 different burgers to choose from. The menu also includes seafood, like Nantucket Seafood with Shrimps, riblets  and a variety of salads. The company has also recently introduced a red wine milkshake called the Divalicious Red Wine Shake and a Bacon Caramel Bourbon Milkshake.
The company famously have one of the highest calories meals available from any mainstream restaurant chain: The A.1. Peppercorn burger topped with "hardwood-smoked bacon, melted Pepper-Jack, A.1. Peppercorn Spread, tomatoes and crispy onion straws." If you add a second beef patty for just $1.99, plus the standard bottomless steak fries and a Monster Milkshake with a refill tin, the total calorie count will come to a whopping 3540 calories.
The Red Robin Menu can also be seen at www.redrobin.com/menu/ , but that online menu is rather unfortunately spread out over 14 different pages, which makes browsing time-consuming and annoying. The site also prompts to first enter your Zip code or City, before revealing any menu at all.
The company homepage can be seen here.
The menus have been updated for 2023! Please use 'Search' for 'Secret Menus', nutritional menus with calorie count, as well as current deals, coupons and specials.
Please add your experience with this restaurant in the comment section. Thank you!