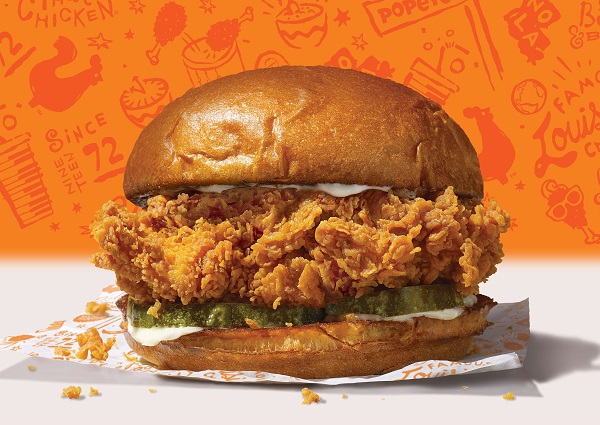 Welcome to Menupricesnearme.org! Prices are updated for 2023. Please use the 'Search' function for 'Secret Menus', and current deals and specials.
Popeyes Chicken Sandwich.
The legendary Popeyes Chicken Sandwich – Why its so delicious and how it is made.
Popeyes' chicken sandwich has already gotten cult status and is the biggest fast food news story of 2019. A war of word broke out between Popeyes and Chick-fil-A, and with both McDonald's and Wendy's restaurants trying to get in on the hype store.
The Popeyes Chicken Sandwich was so popular when it came out in August 2019, that restaurants were forced to turn customers away as they ran out of the popular sandwich after its initial release in August.
You may be wondering what why the Popeyes chicken sandwich is so special.
The bun that cradles the chicken is a "buttery brioche bun", which gives the bread a sweeter flavor.
The piece of chicken itself is a geat deal larger than most other chicken sandwiches. The chicken is also, according to numerous fans, juicer than its biggest competitors, Chick-fil-A's Chicken Sandwich. Popeyes' chicken sandwich definately has a crispier breading.
In a taste test of Chick-fil-A's sandwich compared to Popeyes Chicken Sandwich many point out that the Chick Fil A sandwich is too dry because of a lack of sauce. Popeyes' chicken sandwich comes with a choice of spicy mayo or spicy cajun sauce. Popeyes also uses thicker pickles than their competitors.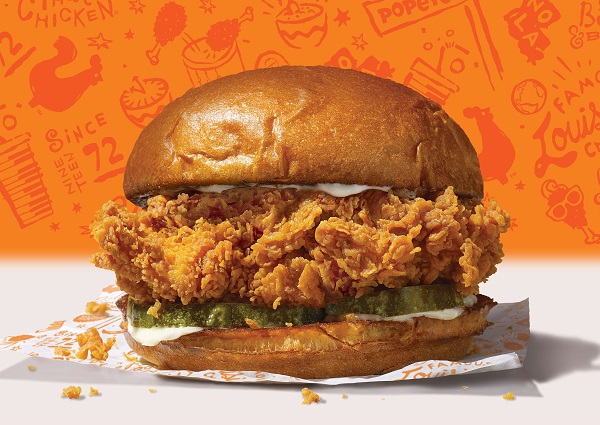 Popeyes Chicken Sandwich Price
The Popeyes chicken sandwich is yours for jusy $3.99: You will get a generous portion of fried chicken breast, spicy brimayo, two pickles and a soft brioche bun.
For the full menu with prices, see your page: Popeyes Menu.
How the Popeyes Chicken Sandwich is made.
Though Popeyes will never reveal their exact cooking methods and sauce ingredients, this video will help you understand how you can make your own version of Popeyes chicken sandwich at home.
Popeyes Chicken Sandwich Recipe – Copycat.
Popeyes recipes are secret, but this copycat recipte comes pretty close to the real thing:
Ingredients:
Chicken Marinade:
2 chicken breasts, pounded and cut in half to sandwich size
1 cup full-fat buttermilk
1 teaspoon paprika, cayenne, sea salt, pepper
1 tablespoon Louisiana hot sauce
Chicken Breading, plus Frying.
Vegetable oil for frying
1.5 cups all purpose flour
3/4 cup corn starch
1.5 tablespoons onion powder
1.5 tablespoons Cajun seasoning
1.5 tablespoons cayenne pepper
1.5 tablespoons paprika
1.5 tablespoons garlic powder
2 teaspoons fine sea salt
2 teaspoons ground pepper
Spicy Mayo and Buns.
3/4 cup mayo (Duke's preferred)
1/2 tsp garlic powder
2 tablespoons butter
2 tablespoons Louisiana hot sauce
2 teaspoons paprika
2 teaspoons Cajun seasoning
1 teaspoon cayenne pepper
4 Brioche buns
Kosher dill pickle slices
Popeyes Chicken Sandwich Reviews.
Which is better, the Popeyes or the Chick-Fil-A, Mcdonalds or Wendy's chicken sandwich? Let us know in the comment section below.
–Popeyes Chicken Sandwich–
The menus have been updated for 2023! Please use 'Search' for 'Secret Menus', nutritional menus with calorie count, as well as current deals, coupons and specials.
Please add your experience with this restaurant in the comment section. Thank you!