Little Caesars Menu with Prices
Welcome to Menupricesnearme.org! Prices are updated for 2023. Please use the 'Search' function for 'Secret Menus', and current deals and specials.
Little Caesars Menu.
Browse the Little Caesars Menu with prices right here.  View the complete Little Caesars Pizza menu, sides and cheese bread menu from your phone or laptop.
We have also added information on the Little Caesars opening hours and latest lunch specials.
On this page we have included prices, unlike the official Little Caesars website.
Please note, that prices do differ a bit from restaurant to restaurant, due to varying costs for rent, labor and fresh produce in different parts of the country.
What is Little Caesar's?
Little Caesars Pizza was founded on May 8, 1959 by Detroit Tigers farm team shortstop Mike Ilitch and his wife Marian Ilitch.  Little Caesars is now the 3rd largest pizza chain in the United States, behind only Pizza Hut and Domino's Pizza (but surpisingly larger than papa Johns).  The Little Caesars' headquarters are in Downtown Detroit, Michigan. Little Caesars is the fastest-growing pizza chain in the world, and now boasts more than 4000 locations in the U.S alone.
Little Caesars offer avariety of pizzas, including HOT-N-READY pizzas (advanced ordering not necessary), as well as customizable "made-to-order" pizzas. In 2013, Little Caesars added the DEEP!DEEP! Dish Pizza to their burgeoningpizza menu. They also offer flavored chicken wings, "Crazy Bread" and Italian Cheese Bread, plus salads in a limited number of locations.
Little Casars main competitors in the pizza fast food segment are: Pizza Hut, Dominos and Papa Johns.
Food
Size
Price

Little Caesar's Hot-N-Ready Pizza Menu

Pepperoni Pizza
Large
$6.00
Cheese Pizza
Large
$6.00
Sausage Pizza
Large
$6.00
DEEP!DEEP! Dish
Large
$8.00
Bacon Wrapped Crust DEEP!DEEP! Dish
Large
$12.00
Pizza
Slice
$1.59

Little Caesar's Specialty Pizzas

3 Meat Treat
Large
$8.00
Hula Hawaiian
Large
$8.00
Veggie
Large
$8.99
Ultimate Supreme
Large
$9.99

Little Caesar's Favorites

Crazy Combo – Bread & Sauce
8 Pc.
$3.99
Italian Cheese Bread
10 Pc.
$4.59
Zesty Cheese Bread
10 Pc.
$4.89
Pepperoni Cheese Bread
10 Pc.
$4.89
Caesar Wings
$6.00
Caesar Dip®
1 Pc.
$0.59
Caesar Dips®
2 Pc.
$1.00

Little Caesar's Combos

Combo Meal 1 – Pizza, Breadsticks & 2-Liter Pepsi
$9.99
Combo Meal 2 – Deep Dish Pizza, Breadsticks & 2-Liter Pepsi
$12.99
Combo Meal 3 – Pizza, Chicken Wings & 2-Liter Pepsi
$12.55
Combo Meal 4 – Deep Dish Pizza, Chicken Wings & 2-Liter Pepsi
$14.99

Sides

Crazy Bread
$2.29
Stuffed Crazy Bread
4 Pc.
$3.00
Stuffed Crazy Bread
8 Pc.
$5.00
Cinnamon Bread
$2.99

Snacks

Jumbo Soft Pretzel
$1.99
Nachos with Cheese
$2.69
Mrs. Goodcookie
$0.89

Little Caesar's "Build Your Own" Pizzas

Put together your own pizza, just the way you like it.

Choose from these toppings: pepperoni, green peppers, onions, Italian sausage, ham, Canadian bacon, beef topping, black olives, green olives, banana pepper rings, jalapeño peppers, bacon, mushrooms and pineapple.

1 Topping Pizza
Large
$6.50
Stuffed Crust
Large
$9.49
Extra Topping
$1.75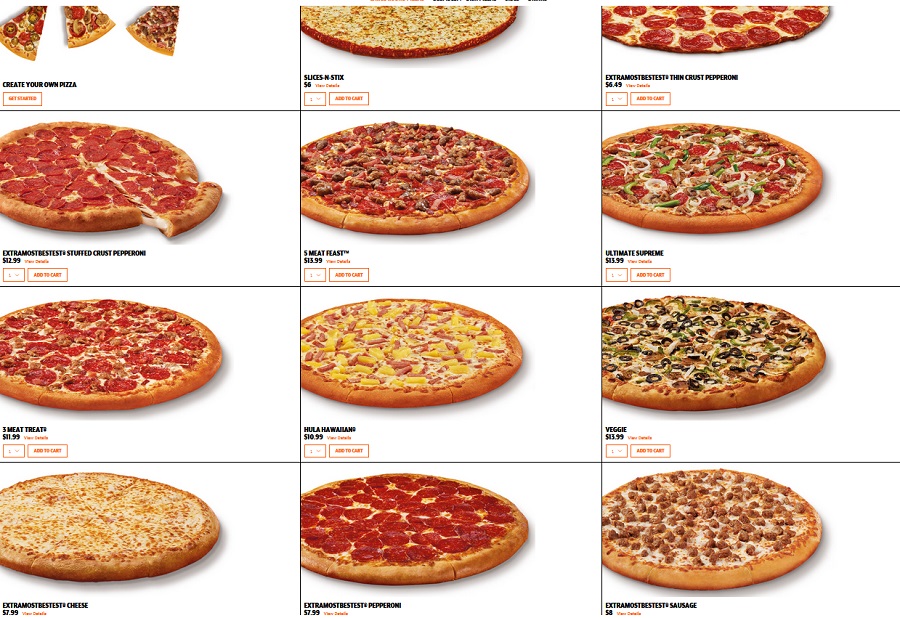 The company homepage can be found here.
Little Caesars Delivery.
Does Little Caesars deliver pizzas to your door?
Answer: yes, Little Caesars offers delivery with online orders. You can order online here, or at Doordash.com, Ubereats.com or Grubhub.com.
The menus have been updated for 2023! Please use 'Search' for 'Secret Menus', nutritional menus with calorie count, as well as current deals, coupons and specials.
Please add your experience with this restaurant in the comment section. Thank you!