Jack In the Box Birthday Coupons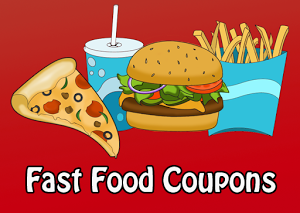 Welcome to Menupricesnearme.org! Prices are updated for 2023. Please use the 'Search' function for 'Secret Menus', and current deals and specials.
Jack In The Box Printable Birthday Coupons.
For your birthday, Jack In The Box current offers a 2 Free Birthday Tacos or a Free Dessert, New York Cheesecake or Chocolate Overload Cake, with a purchase.
However, in order to redeem the coupon, you MUST show a VALID I.D. of your birthday.
A few customers have commented, that you can actually use the coupon for this free offer during the whole week of your birthday. So, theoretically, you can get more than one Free Birthday item, if you visit again on a different day that week.
How it works:
You should be able to show one the coupons below from your phone to receive this birthday deal. Or simply print it out and show.
Please note, that it is up to the individual store as to whether or not they will honour a coupon or deal, but most will.
One coupon per guest, per visit, so choose one!
Also, you MUST purchase something else when you visit to be eligible for this deal. Fair enough, I suppose.
To get some mouthwatering inspiration, please see our page for the Jack In The Box Menu.
Jack In The Box Coupon – 2 Free Birthday Tacos.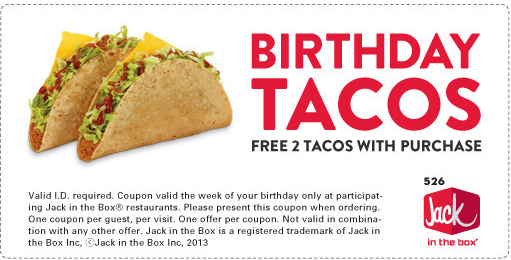 Jack In The Box Coupon – Free Birthday Dessert.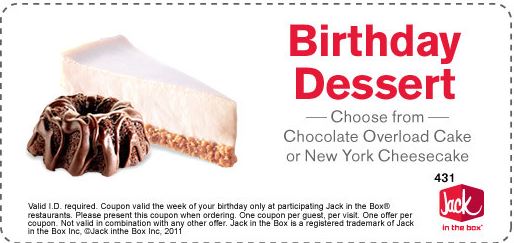 Enjoy!
And Happy Birthday!
– Jack In The Box Birthday Coupon –
The menus have been updated for 2023! Please use 'Search' for 'Secret Menus', nutritional menus with calorie count, as well as current deals, coupons and specials.
Please add your experience with this restaurant in the comment section. Thank you!