Welcome to Menupricesnearme.org! Prices are updated for 2023. Please use the 'Search' function for 'Secret Menus', and current deals and specials.
IHOP Menu Prices.
Looking for the complete IHOP menu? Look no further!
See the full Ihop Menu with prices below, including the famous Ihop Breakfast menu, Lunch, Dinner and Senior Menu, plus information on the best Ihop specials and deals, like the popular "Ihop Kids Eat Free", and the "Ihop Free Pancakes" promotions.
IHOP Menu with Prices.
Below we have added the full Ihop menu for you to browse freely from your phone or computer.
As Ihop restaurants are run by the franchise concept, prices may vary from restaurant to restaurant, so please take the list as a guide only. The menu can also be seen at www.ihop.com/menus/main-menu, but that menu does not include prices.
IHOP Food Menu
Size
Price

IHOP Pancakes Menu

Double Blueberry Pancakes
$6.79
Original Buttermilk Pancakes
$5.69
Harvest Grain 'N Nut Pancakes
$6.99
Corn Cake Pancakes
$6.49
Chocolate Chip Pancakes
$6.79
Pancake Platter
$6.79
Pigs in Blankets
$6.79
Pancake Sandwich
$6.79
Strawberry Banana Pancakes
$6.79
Pancake Combo
$7.49

IHOP Omelettes Menu

The Big Steak Omelette
$8.99
Colorado Omelette
$8.99
Country Omelette
$8.49
Garden Omelette
$7.49
Chicken Fajita Omelette
$8.99
International Omelette
$7.49
Big Bacon Omelette
$7.99
Supreme Ham & Three Cheese Omelette
$7.99
Spinach & Mushroom Omelette
$7.99
Create Your Own Omelette
$5.99
Add Hashbrowns
$1.29

IHOP Signature Favorites Menu

Breakfast Sampler
$8.49
Rooty Tooty Fresh N' Fruity
$6.99
International Passport
$6.99
Split Decision Breakfast
$7.99
T-Bone Steak & Eggs
$11.99
Country Fried Steak & Eggs
$7.99
Top Sirloin Steak & Eggs
$10.99

IHOP Classic Combos Menu

Three Eggs & Pancakes
$6.99
Two x Two x Two
$5.49
Eggs Benedict
$8.99
Chorizo & Eggs
$7.49
South of the Border Burrito
$7.49
Smokehouse Combo
$7.49
Sirloin Tips & Eggs
$9.99
Quick Two-Egg Breakfast
$6.99
Big Country Breakfast
$8.99

IHOP French Toast & Waffles Menu

Strawberry Banana French Toast
$6.79
Vive La French Toast
$6.79
Belgian Waffle
$5.79
French Toast
$5.79
Stuffed French Toast Combo
$7.99
Stuffed French Toast
$6.99

IHOP Sweet & Savory Crepes Menu

Garden Stuffed Crepes
$7.99
International Passport
$6.99
Swedish Crepes
$6.99
French Crepes
$6.99
German Crepes
$6.99
Chicken Florentine Crepes
$8.99
Cheese Blintzes
$6.99

IHOP Burgers & Sandwiches Menu

BBQ Bacon Cheeseburger
$6.99
IHOP Cheeseburger
$6.59
Monster Cheeseburger
$7.99
Patty Melt
$6.99
Bacon & Egg Cheeseburger
$7.29
Double BLT
$6.49
Ham & Egg Melt
$7.29
Philly Cheese Steak Super Stacker
$7.99
Chicken Clubhouse Super Stacker
$7.99
Sourdough Bacon Burger Melt
$6.99
International Club
$7.29
Turkey Sandwich
$6.49

IHOP Snacks and Bites Menu

Italian Cheese Straws
$5.49
Crispy Chicken Strips & Fries
$7.49
Buttermilk Popcorn Shrimp & Fries
$7.49
Chicken or Steak Quesadilla
$6.99
Appetizer Sampler
$7.69
Onion Rings
$3.49

IHOP Savory Selections

BBQ Ribs
$9.99
BBQ Chicken
$9.99
BBQ Ribs & Chicken
$10.99

IHOP Favorites

Top Sirloin Steak
$11.99
T-Bone Steak
$12.99
Old-Fashioned Pot Roast
$8.49
Country-Fried Steak
$8.79
Grilled Tilapia Hollandaise
$9.99
Crispy Chicken Strips
$8.49
Herb Roasted Chicken
$8.49
Smoked Sausage
$7.49

IHOP Salads & Soups Menu

Clubhouse Spinach Salad
$8.99
Shrimp Caesar Salad
$7.99
Grilled Chicken Caesar Salad
$7.49
Small House Salad
$2.49
Today's Soup (Bowl)
$2.99
Crispy Chicken Salad
$7.99
Southwestern Chicken Fajita Salad
$7.99

IHOP Senior Specials Menu

55 and over menu

Rise & Shine
$5.59
Senior French Toast
$4.79
Senior Buttermilk Pancakes
$3.99
Senior Omelette
$5.59
Senior Pigs in Blankets
$4.79
Senior Smokehouse Combo
$4.29
Senior Classic Breakfast
$3.99
Senior Grilled Tilapia Hollandaise
$6.99
Senior Pot Roast
$6.99
Senior Crispy Chicken Strips
$6.99
Senior Country Fried Steak
$6.99

IHOP Kids Menu

Funny Face
$3.59
Silver Five
$3.29
French Toast
$3.19
Cheese Omelette
$3.59
Egg Sandwich
$3.29
Rooty Jr.
$3.59
Cheeseburger
$3.89
Grilled Cheese Sandwich
$3.29
Crispy Chicken Strips
$3.99
Pigs in Blankets
$3.59
Kids Ice Cream Sundae
$1.29
Kids Drinks (soft drinks, milk, chocolate milk, hot chocolate, juice)
$1.19

IHOP for Me

Kids Menu

Baby Cakes
$3.49
Jr Scrambled Egg & Pancake
$3.29
Kid's Fresh Fruit Dish
$2.49
Create-A-Face Pancake
$3.59
Jr. Fish
$4.99

IHOP Desserts Menu

Crispy Banana Caramel Cheesecake
$3.49
Ice Cream Sundae
$3.59
Ice Cream
$1.29
Fruit Crepe
$3.29
Hot Fudge Brownie Sundae
$3.99
Assorted Pies
Slice
$2.99

IHOP Drinks Menu

Juice (Orange, Apple, Tomato, or Grapefruit)
Regular
$1.99
Juice (Orange, Apple, Tomato, or Grapefruit)
Large
$2.69
Juice (Orange, Apple, Tomato, or Grapefruit)
Carafe
$4.99
Hot Tea
$1.99
Iced Tea
$1.99
Soft Drinks
$1.99
2% Milk
Small
$1.69
2% Milk
Large
$2.49
Chocolate Milk
Small
$1.69
Chocolate Milk
Large
$2.49
Hot Chocolate
$1.99
Herbal Tea
$1.99
Lemonade
$1.99
Milk Shake
$3.79

IHOP for Me Menu

Big Breakfast Combo
$8.49
Buttermilk Trio
$4.79
Carb Conscious T-Bone Breakfast
$10.99
Garden Scramble
$7.49
Simply Chicken Sandwich
$6.99
Simply Chicken
$6.99
Tilapia Hollandaise
$9.99
Carb Conscious T-Bone Dinner
$11.99
Fresh Fruit Bowl
$3.99
Oatmeal
$2.49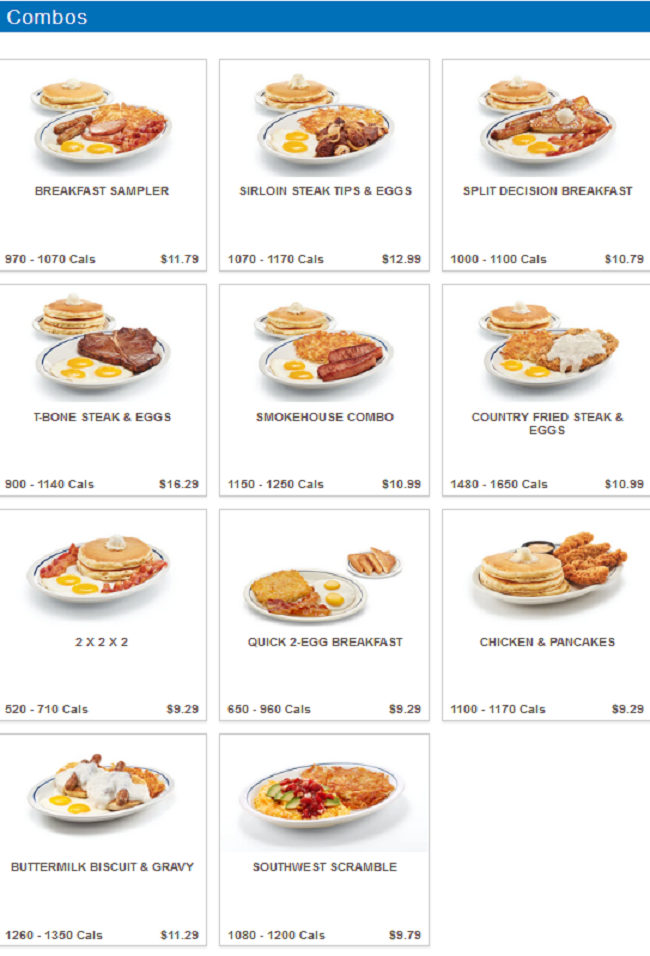 IHOP Hours.
Alomst all IHOP restaurant locations are owned by independent franchisees. Opening hours at IHOP vary from location to location to location as franchise oweners can set their own opening hours.
The IHOP minimum hours of operation are: Sunday through Thursday IHOP locations are open from 7 a.m. to 10 p.m.
On Fridays and Saturdays IHOP restaurants are open from 7 a.m. to 12 midnight.
IHOP Coupons and Deals.
Please see the comment section below for the latest Ihop coupons, deals and promotions.
IHOP Kids Eat Free.
Everyday kids eat free at IHOP, if they are 12 years or under. You will receive 1 free kids' menu item per adult entree bought between 4pm to 8pm. However, please note that the drink is not included. The IHOP kids' menu includes omelettes, grilled cheese sandwiches, pancakes, french toast,  chicken strips, cheeseburgers, eggs, plus fruit and fish. Please also note that you have to ask for the Ihop Kids Eat Free deal, otherwise you might still be charged.
Also, the varies depending on location, so please ahead before visiting for this deal.
Ihop Free Pancakes Day.
Every year IHOP celebrates the National Pancake Day with an offer of free pancakes from more than 1500 IHOP restaurants in the US. You can expect a complimentary stack of IHOP's buttermilk pancakes from 7 a.m. to 10 p.m.
The Nation Pancake day is on March 4, but other free pancake promotions are rolled out throughout the year, for example on Halloween. See the comment section for the latest deals.
What is Ihop?
IHOP (International House of Pancakes) is a US based Breakfast restaurant chain, that specializes in breakfast items such as pancakes, French toast, and omelettes. However, the company also has lunch and dinner menu. The company has 1,500 restaurants across the Americas.
Ihop was founded in 1958 by Jerry Lapin, Al Lapin, and Albert Kallis.The first restaurant opened on July 7, 1958, in Toluca Lake, Los Angeles.
Their main competitors in the breakfast segments are Denny's and to some degree Taco Bell (see the Taco Bell Breakfast Menu). In 2007, IHOP Corporation bought Applebees International, Inc, and changed its name to Dine Equity.
IHOP's homepage is at this site.
For menu changes, deals and coupons, please see the comment section below. You can also at a deal, if you find one that is not listed. Enjoy!
-IHOP Menu with Prices-
The menus have been updated for 2023! Please use 'Search' for 'Secret Menus', nutritional menus with calorie count, as well as current deals, coupons and specials.
Please add your experience with this restaurant in the comment section. Thank you!