Free Meal for Veterans on Memorial Day at Hooters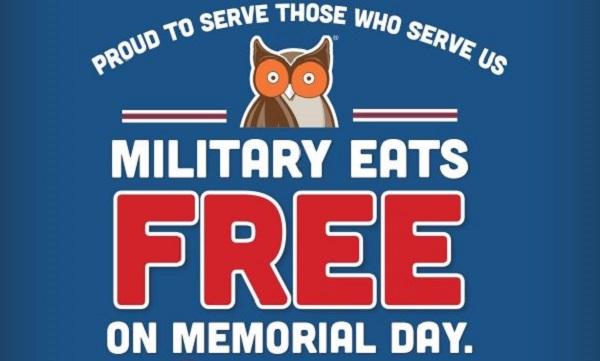 Welcome to Menupricesnearme.org! Prices are updated for 2023. Please use the 'Search' function for 'Secret Menus', and current deals and specials.
Hooters gives out free meals for Veterans and Military personnel on Memorial Day.
Hooters is all set to celebrate the Memorial Day this year with a special Memorial Day offer, valid on the 30th of May. The company will be giving out free entrees to all veterans and military personnel.
The entrée can be chosen from some a list of exclusive dishes such as Buffalo Chicken Sandwich, Buffalo Chicken Salad, Hooters Burger, Traditional Wings (10 pieces) and Boneless Wings (10 pieces). It will come free as complementary, when ordering a beverage from Hooters.
This is a great offer since each of these dishes cost you about $8-9 on the other normal days, so getting these mouth-watering entrees from Hooters for free is worth your while. The offer from Hooter's on Memorial Day is only applicable for dining in. It is not available for take-away, and it is available at most of the 460 locations. Don't forget to bring your Veteteran or Military ID card, if you want to take advantage of this offer.
Offers to veteran and active members of the military are nothing unusual. There are special offers and discounts going on every year on the Veteran's Day (11th November) and on Memorial Day. Starbucks, Krispy Kreme, Friendly's, Applebee's, TGI Friday's and many other food chains also try to make these days special for the veterans and military personnel by offering special discounts on their food and beverage. Some of them even let their family members join in on this offer.
Hooters has offers for the military personnel not only on these special days, but all throughout the year. They give a discount of 20% to military personnel on every Tuesday and 10% discount on the other days. However, the promotional offer on the 30th is a one -day-only offer.
Some other places, where you can celebrate the Memorial Day this year with attractive promotional discount are:
California Pizza Kitchen – Offers free entrees, almost similar to the offer of Hooter's.
Applebee's – Military members get $5 meals with a military ID all day on Monday or use military ID to get 15 percent off entire food purchase. Two offers can't be combined.
Lowe's – The home improvement store is offering a 10 percent military discount to all those serving in the military, their families, and all veterans. Valid military ID, Veteran ID card or other proof of service required.
Shoney's – The restaurant is offering free All-American burgers to active duty and military veterans on Memorial Day. Proof of military service required.
Bon Appetit!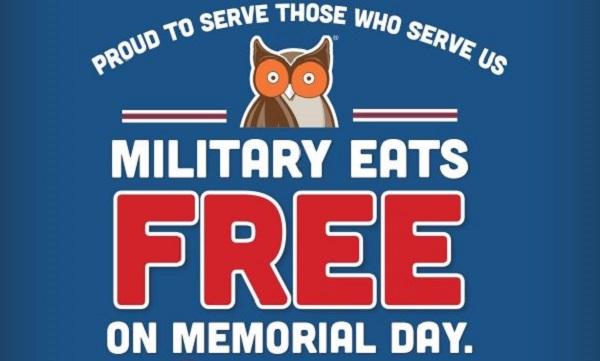 The menus have been updated for 2023! Please use 'Search' for 'Secret Menus', nutritional menus with calorie count, as well as current deals, coupons and specials.
Please add your experience with this restaurant in the comment section. Thank you!