Chipotle Free Burrito BOGO Promotion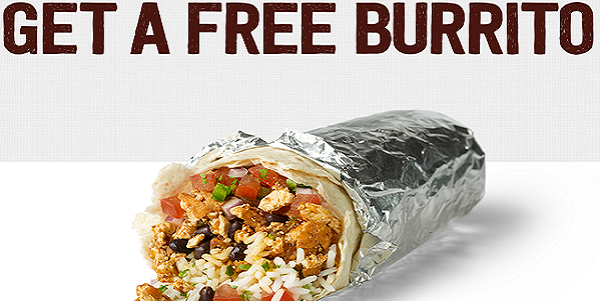 Welcome to Menupricesnearme.org! Prices are updated for 2023. Please use the 'Search' function for 'Secret Menus', and current deals and specials.
New Chipotle Free Burrito promotion.
Chipotle releases 21 million coupons.
Chipotle is continuing their popular "Free Burrito" promotion in an attempt to get back its customers after the public relations disasters of early 2016.
To start off the campaign, Chipotle is sending out more than 21 million direct-mail coupons for free burritos and other food items in the coming weeks. The coupons expires on May 15th.
In their most recent free-burrito special, almost 5 million people downloaded a mobile coupon with about half of them redeeming the offer.
Chipotle will also send out mobile promotions for free burritos, and during the summer, the company will shift to buy-one-get-one (BOGO) offers.
Chipotle's same-store sales fell 26.1% in February 2016, over last year, and the promotion is aimed at turning around this revenue fall.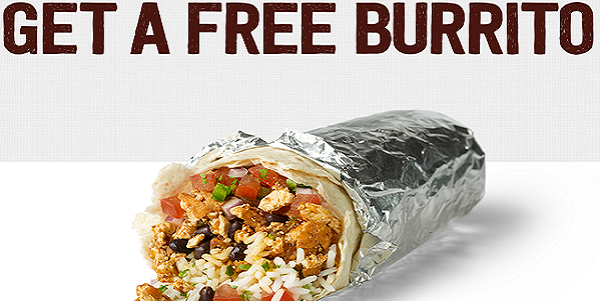 How to get the Free Burrito at Chipotle.
There are several ways to obtain the latest Chipotle Buy-One-Get-One-Free deals. Whenever the company is actively promoting free items, you can:
Sign Up for Chipotle Emails and receive the latest coupons and offers at your email address. Sign up at Chipotle.com and scroll to the bottom of the page.
Sign up for Chipotle mobile coupons at Chipotle.com.
Download the Chipotle App for Android or Iphone.  You can then redeem the a free burrito or other items, when the deal is available.
Buy a Chipotle BOGO coupon on Ebay. There are always a good number of coupons for burritos, salads or tacos for sale on ebay, especially when a new promotion is being rolled out. Search for "Chipotle coupon" on eBay and browse the offers. Often you can pick up coupons for a few dollars, that will save you $10 to $15 on your next visit.

Chipotle also has a buy-1-get-1 free deal to support youth soccer leagues on April 16, 2016. A

ll youth soccer players who wear their team uniform to any Chipotle on Saturday, April 16th will be eligible for the But-One-Get-One-Free deal on burritos, bowls, salads, tacos or kids meals. Players must be 14 or younger.

Limited to one free entrée item per player. The free item requires a purchase of an entrée item of equal or greater value.



To see the full menu with prices, please visit our Chipotle Menu page.
The menus have been updated for 2023! Please use 'Search' for 'Secret Menus', nutritional menus with calorie count, as well as current deals, coupons and specials.
Please add your experience with this restaurant in the comment section. Thank you!