Cheddars Menu with Prices
Welcome to Menupricesnearme.org! Prices are updated for 2023. Please use the 'Search' function for 'Secret Menus', and current deals and specials.
Cheddars Menu.
List of all the Cheddar's restaurant menus with prices, including the Cheddars lunch and drinks menu, as well as the latest Happy Hour deals.
Cheddars' prices may vary from restaurant to restaurant.
What is Cheddar's Scratch Kitchen?
Cheddar's Scratch Kitchen is an USA-based restaurant chain from Irving, Texas. The chain was founded in 1979 by Aubrey Good and Doug Rogers, and it operates around 160 locations in 23 states. Their main competitors and the family fast casual restaurants are (see menus) Applebee's, Chili's, Cracker Barrel and Ruby Tuesdays.
The name Cheddar's Scratch Kitchen refers to its policy of offering made-from-scratch cooking. The restaurant chain was called Cheddar's Casual Cafe until 2013.
The restaurants serve a variety of steaks, chicken, seafood, burgers, salads and desserts, as well as alcoholic bar drinks. The company has recently introduced a "575 calories and under" for customers wanting lighter meals.
Cheddars Menu with Prices.
Cheddars Food Items
Size
Price

Cheddars Appetizers Menu

Chips & Homemade Queso
$4.79
Santa Fe Spinach Dip
$5.79
Cheddar's Cheese Fries
Small
$5.79
Cheddar's Cheese Fries
Regular
$7.29
Chicken Tender Basket
$7.29
Loaded Russet Potato Skins
$7.49
Chicken Fajita Quesadilla
$8.79
Ultimate Nachos
$8.79
Homemade Onion Rings
$5.29
Wisconsin Cheese Bites
$6.99
Triple Treat Sampler
$9.29

Cheddars Soup Menu

Homemade Chicken Tortilla Soup
Cup
$3.29
Homemade Chicken Tortilla Soup
Bowl
$4.49
Homemade Baked Potato Soup
Cup
$3.29
Homemade Baked Potato Soup
Bowl
$4.49

Cheddars Ultimate Lunch Combo

Choice of Half-Sandwich & 1 Pairing
$6.79
Choice of Half-Sandwich & 2 Pairings
$7.79

Cheddars Scratch Burgers Menu

The Original
$5.99
Bacon Cheeseburger
$7.99
SmokeHouse Burger
$6.99

Cheddars Salad Menu

Chicken Caesar Pasta Salad
$8.49
Crispy Chicken Salad
$8.79
Grilled Chicken Pecan Salad
$8.79
Signature Shrimp & Chicken Salad
$10.29

Cheddars Sandwich Menu

Maple Bacon Chicken Sandwich
$8.29
Buffalo Chicken Wrapper
$8.49
Cheddar's Club
$7.99
Monte Cristo
$8.49
Philly Cheesesteak
$8.49

Cheddars Favorites

Chicken Fried Steak
$9.29
New Orleans Pasta
$10.79
Vegetable Plate
$7.49
Key West Chicken & Shrimp
$9.99
Gigi's Baked Spasagna
$9.49

Cheddars Steaks Menu

6oz. Top Sirloin
$9.99
8oz. Top Sirloin
$11.49
12oz Ribeye
$14.99
20oz Bone-in Ribeye
$19.99

Cheddars House-Smoked Baby Back Ribs

Half Rack
$10.99
Full Rack
$15.79

Cheddars Combinations

Chicken Tenders & Shrimp
$10.79
Top Sirloin Steak & Chicken Tenders
$13.49
Top Sirloin Steak & Ribs
$14.79
Half Rack of Ribs & Shrimp
$14.49
BBQ Chicken & Half Rack of Ribs
$13.99
Top Sirloin Steak & Shrimp
$13.99
Half Rack of Ribs & Chicken Tenders
$14.29

Cheddars Lighter Side

Lemon Pepper Whitefish
$8.29
Grilled Baja Chicken
$8.79
Citrus Miso Glazed Salmon
$8.99
Sweet Heat Chicken & Shrimp
$8.99

Cheddars Chicken Menu

Chicken Tender Platter
$8.99
BBQ Chicken Platter
$8.99
Homemade Chicken Pot Pie
$7.79
Dijon Chicken & Mushrooms
$9.79
Lemon Pepper Chicken
$8.99
Grilled Chicken Alfredo
$9.49
Country Chicken Fried Chicken
$10.49

Cheddars Seafood Menu

Blackened Redfish W/ Crab Sauce
$14.29
Grilled Salmon
$10.99
Cornmeal Catfish
$9.79
Grilled Catfish
$9.79
Grilled Tilapia & Shrimp with Mango Salsa
$9.99
Beer Battered Fried Shrimp
$10.79
Fish Tacos
$7.79

Cheddars Made-From-Scratch Sides

Steamed Fresh Broccoli, Homemade Black Beans, Buttered Off-The-Cob Corn, Mac & Cheese, Freshly Made Coleslaw, Seasoned Rice, French Fries, Broccoli Cheese Casserole, Mashed Potatoes, Red Beans & Rice, Loaded Baked Potato, & Southern Green Beans
$2.49
House or Caesar Salad
$3.79
Honey Butter Croissants
3 Croissants
$2.99

Cheddars Kids Menu

Grilled Cheese
$4.99
Chicken Tenders
$4.99
Junior Burger
$4.99
Mac & Cheese
$4.99
Penne Pasta Marinara
$4.99
Grilled Chicken
$4.99

Cheddars Dessert Menu

Dessert Minis
Each
$1.49
Dessert Minis
Trio
$3.99
Hot Fudge Cake Sundae
$5.49
Cheddar's Legendary Monster Cookie
$4.99
Apple Crisp A La Mode
$4.99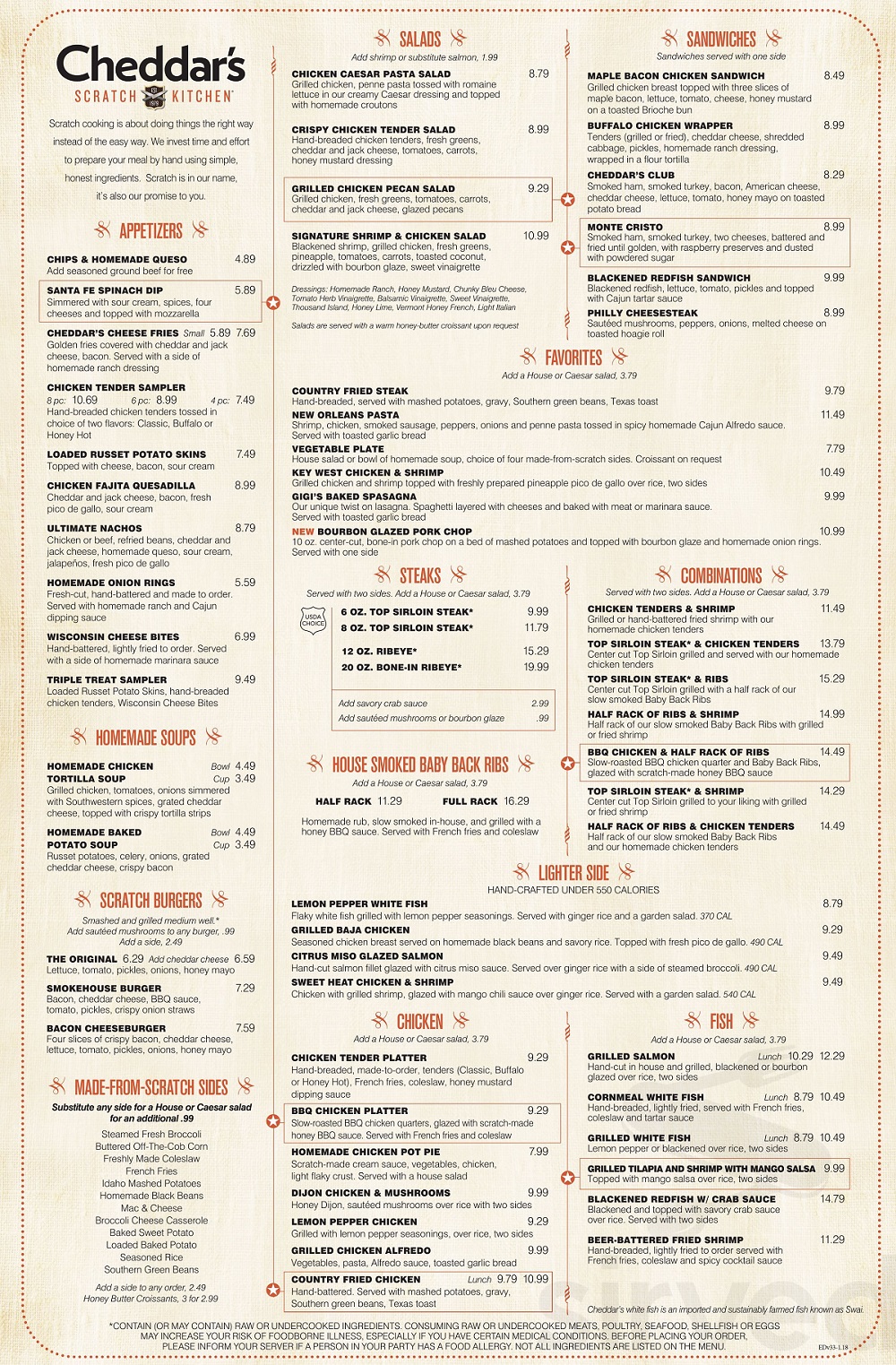 Cheddar's Happy Hour Deals.
These are the Cheddar's Happy Hour Drinks:
Well Drinks $3
Pints $3.50
Cheddar's Happy Hour Times.
Monday-Tuesday
4 pm–7 pm: Deals on drinks. No food Happy Hour discounts
Saturday-Sunday
No Cheddar's Happy Hour on Saturdays and Sundays.
The Cheddar's Homepage can be seen here.
The menus have been updated for 2023! Please use 'Search' for 'Secret Menus', nutritional menus with calorie count, as well as current deals, coupons and specials.
Please add your experience with this restaurant in the comment section. Thank you!