Shake Shack Menu with Prices
Welcome to Menupricesnearme.org! Prices are updated for 2023. Please use the 'Search' function for 'Secret Menus', and current deals and specials.
Shake Shack Menu.
Shake Shack was founded in 2004 in New York City, by Danny Meyer. Shake Shack Inc. owns and operates over 250 restaurant locations globally.
Shake Shack is famous for their shakes and their ShackBurger, but they also sell hot dogs, chicken burgers, fries, frozen custards, beer and wine. In each new restaurant, the drinks menu is customized to the local flavors of the city location. The ShackBurger comes as either a single or double, and contains a beef burger patty, American cheese, tomato, lettuce as well as a proprietary "secret" sauce.
Shake Shack Food Menu
Size
Price

Shake Shack Burgers Menu

ShackBurger
Single
$5.29
ShackBurger
Double
$8.09
SmokeShack
Single
$6.84
SmokeShack
Double
$9.64
'Shroom Burger (Vegetarian)
$6.99
Shack Shack
$9.59
Hamburger
Single
$4.29
Hamburger
Double
$6.59
Add Bacon
$1.55

Shake Shack Chicken Menu

Chick'n Shack
$6.29

Shake Shack Flat-Top Dogs Menu

Shack-cago Dog
$4.25
Hot Dog
$3.25
Chicken Dog
$4.50

Shake Shack Crinkle Cut Fries

Fries
$2.99
Cheese Fries
$3.99

Shake Shack Frozen Custard Menu

Shakes – Caramel, Vanilla, Peanut Butter, Chocolate, Black & White, Strawberry or Coffee Fair Shake
$5.29
Make It Malted
$0.50
Add Whipped Cream
$0.50
Shake of The Week
$5.59
Floats – Root Beer, Purple Cow or Creamsicle
$5.29
Cup or Cone
Single Dip
$3.59
Cup or Cone
Double Dip
$4.59
Pint To Go
$5.99
Concretes
Single
$4.59
Concretes
Double
$6.79
Design Your Own Concrete
Single
$3.59
Design Your Own Concrete
Double
$4.79
Mix-Ins
$0.60

Shake Shack Drinks Menu

Shack-Made Lemonade
Regular
$2.80
Shack-Made Lemonade
Large
$3.55
Organic Fresh Brewed Iced Tea
Regular
$2.30
Organic Fresh Brewed Iced Tea
Large
$2.80
Fifty/Fifty
Regular
$2.55
Fifty/Fifty
Large
$3.30
Fountain Soda
Regular
$2.30
Fountain Soda
Large
$2.80
Draught Root Beer
Regular
$2.80
Draught Root Beer
Large
$3.55
Organic Apple Juice
Regular (6.75 oz.)
$1.90
Bottled Water
Regular (710 ml.)
$2.40
Stumptown Cold Brewed Coffee
$4.75

Shake Shack Beers

ShackMeister Ale
Draught (16 oz.)
$5.69
ShackMeister Ale
Draught (24 oz.)
$7.69

Shake Shack Wine

Shack Shack Red or White

Shack White
Glass (6 oz.)
$7.89
Shack Red
Glass (6 oz.)
$8.89
Shack White
Bottle (750 ml.)
$28.39
Shack Red
Bottle (750 ml.)
$31.99

Woof Menu

Treats Menu For Pets

Pooch-Ini
$3.99
Bag O' Bones
5 Pc.
$7.99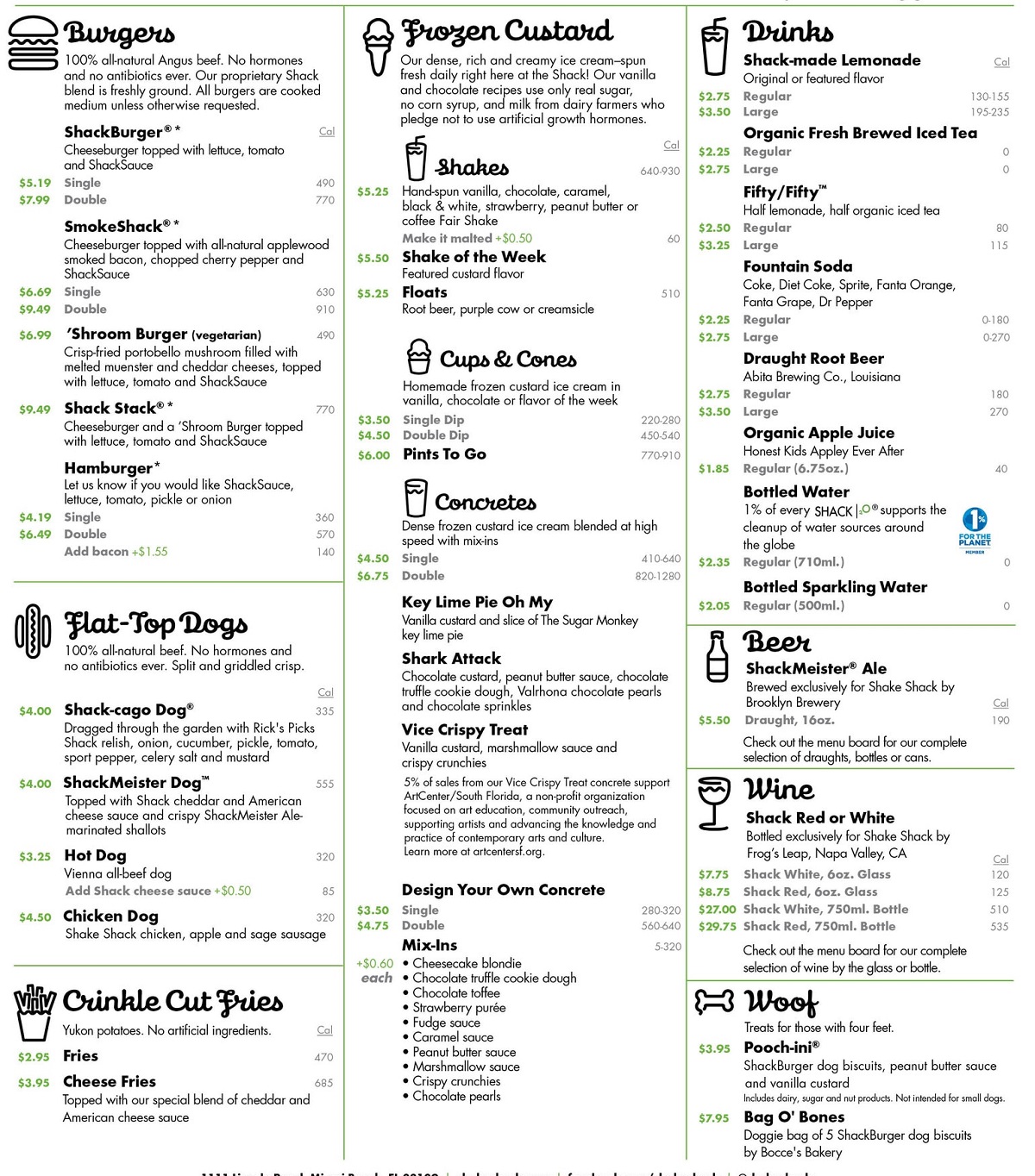 Shake Shack's homepage can be found here.
The menus have been updated for 2023! Please use 'Search' for 'Secret Menus', nutritional menus with calorie count, as well as current deals, coupons and specials.
Please add your experience with this restaurant in the comment section. Thank you!